If it's your first visit to the Grand Canyon South Rim, you can easily be overwhelmed by the choice of trails. Many first timers are itching to hike below the rim, but if that isn't you, the best trail is the South Rim Trail. It's flat and offers great views all along the Canyon's southern rim. The drawback, of course, is that it's heavily traversed nearly all year. But the big upside is that it's paved and can accommodate wheelchairs, strollers, and the like. Plus, if you overshoot your ability, you can hop on the shuttle for your return.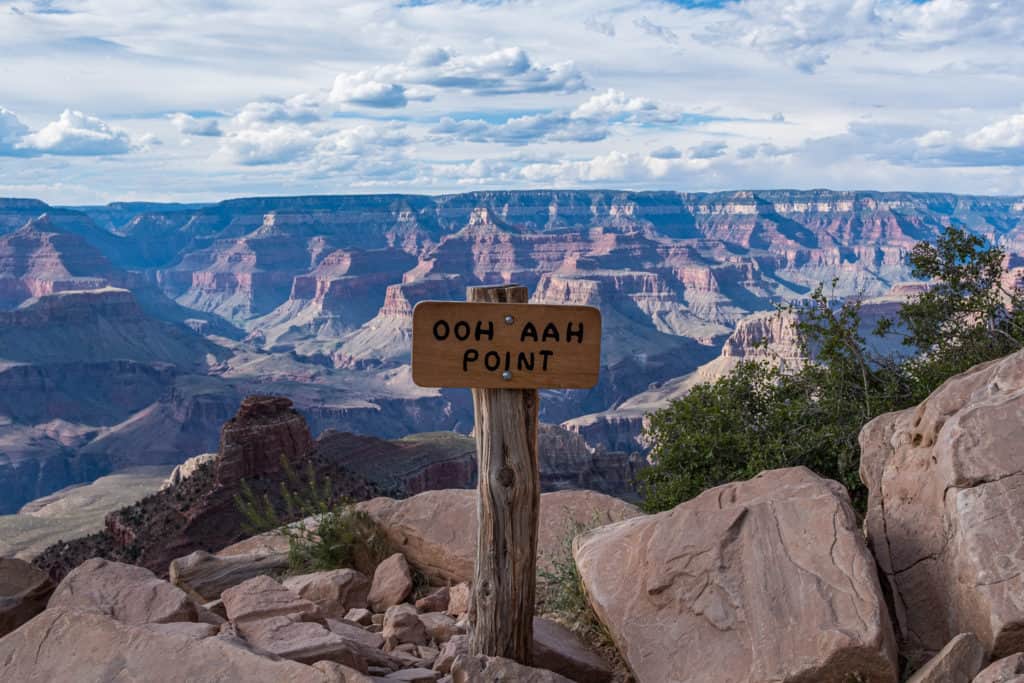 South Kaibab Trail to Ooh Ahh Point
If you are a moderately skilled hiker with good fitness and really want to tell your friends you hiked into the Grand Canyon, South Kaibab Trail is one of the best options. Your hike begins on Yaki Point Road where you'll find the South Kaibab trailhead. You'll want to take the Orange shuttle from Grand Canyon Village, since there is no parking on Yaki Point Road near the trailhead.
The descent to Ooh Ahh Point offers exhilarating vistas and beautiful wildflowers along the trail. It starts with several steep switchbacks that are doable even for kids. It's also where most of the shade is (mornings only). The total distance to the point is .9 miles, which should take you about 40 minutes. When you reach Ooh Ahh Point, you're rewarded with dramatic panoramic views that show off the splendor of Grand Canyon east.
Bear in mind that you'll need to bring plenty of your own water on this moderate hike, although it's also seasonally available at the trailhead. Hats, good hiking shoes or boots, high protein snacks, and sunblock are also recommended. Depending on your endurance, the hike back is only about ten minutes longer than the hike down, for others it takes double the time to ascend as it did to descend. Expect a 90-minute to two-hour roundtrip hike.
Stretching Your Hike to Include Cedar Ridge
Nearly anyone who hikes South Kaibab Trail will tell you that the extra .6 mile from Ooh Ahh Point to Cedar Ridge is well worth adding onto your hike. It follows the ridge line in full sun as you descend into the canyon. When you reach Cedar Ridge, you'll discover phenomenal 360-degree views from nearly the center of the Grand Canyon where spectacular cliffs and crevasses seem nearly endless.
There is an outhouse style bathroom at Cedar Ridge with no running water, and a hitching post for mules since this is one of their rest stops into and out of the Canyon. Take your time here and fully immerse yourself in the enormity of the Canyon, maybe even have your lunch here before beginning your ascent back to the rim.
Lots of people underestimate the difficulty of the return trail, or maybe overestimate their fitness and endurance. Either way, plan for your return trek to the rim to take a lot longer from here than your descent. Be smart and make frequent stops. After all, each stop is another opportunity to admire the natural beauty all around you. The three-mile roundtrip may not sound like a lot, but when you get to those challenging switchbacks at the top right as you're your most tired, you'll get it. So, take it easy on the way back up to the rim.
Back at Grand Canyon Village
After an arduous hike below the rim and back, you won't want to go far for comfort. Enjoy a meal at one of eight Grand Canyon South Rim restaurants. There's a variety of choices from casual budget-minded establishments to higher end fine dining. If you plan ahead, you could even stay the night at one of six Grand Canyon Village hotels where an afternoon nap before dinner may be in order!