Many people who have chosen to call Sedona home think of it not so much as a town, but as a state of mind — a magical, mystical place where a person can find peace and enlightenment, and even connect with otherworldly beings.
If you'd like to explore this side of Sedona, look no further than Sedona UFO Tours.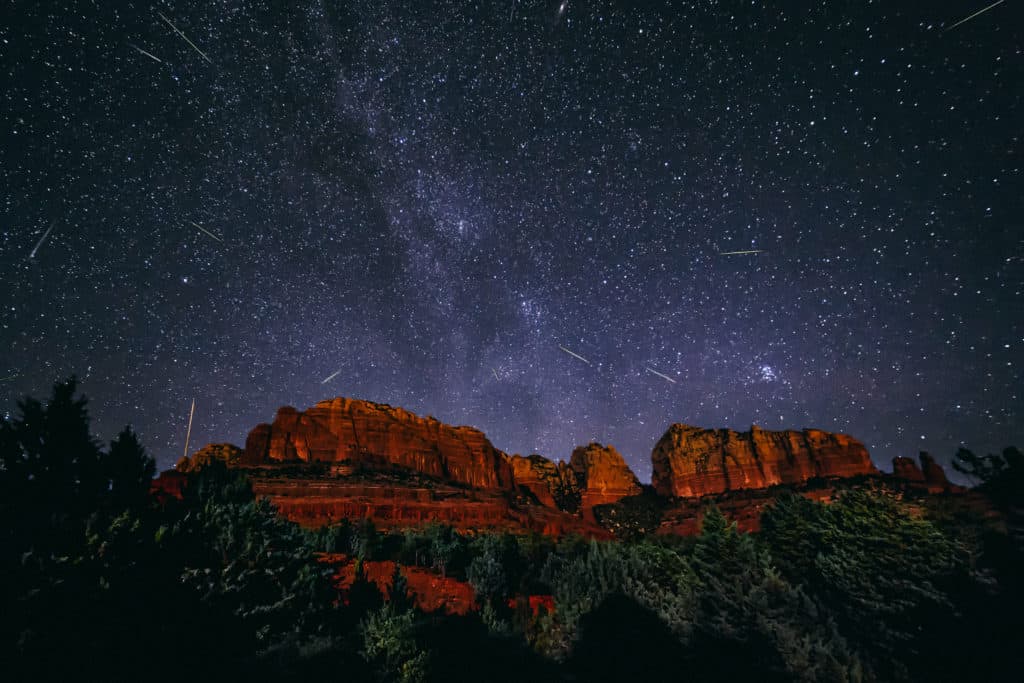 About Sedona Ufo Tours
UFO sightings in Sedona and the Verde Valley go back decades. Sedona UFO Tours, with its mascot Zander the Alien, has become a leader in nighttime UFO viewing excursions, using night vision goggles and satellite-tracking apps to help guests filter out the known from the unknown in the night sky.
They also offer an array of vortex and mediation experiences — and no matter what you think of New Age philosophy in general, giving yourself a couple of hours to look inwards and focus on yourself can be a refreshing and rewarding experience in the middle of a busy vacation.
Guides are experienced in UFOlogy, guided meditation, chakra readings, and the history and philosophy of vortexes. They take their jobs seriously and they strive to give visitors a unique experience — all of which makes them stand out from more 'normal' sightseeing activities.
Sedona Ufo Tour Spotlight
Original Ufo & Stargazer Tour
The Original UFO & Stargazer Tour is certainly one of the most unique tours in Sedona. The city is a certified Dark Sky Community, meaning there isn't a lot of outdoor lighting to obscure the night sky. This allows viewers an exceptionally clear view of the night sky. The tour, which lasts about 90 minutes, takes stargazers and UFO hunters to nearby mesa for a prime viewing experience. Guests have access to military-grade night vision goggles to pick out any strange phenomena in the sky. "We do our best to ensure that every guest has a fun and memorable experience by offering a wealth of knowledge on 'UFOlogy,'" they say in a disclaimer on their website. Guides will usually talk about UFO encounters in Sedona over the decades, and point out celestial bodies and objects that are not planes or satellites. Many people report seeing 25-100+ unexplained or unidentified objects, and more than a few say it opened their eyes to different perspectives of the universe. At the very least, you're going to some very pretty starry skies.
Sedona Spiritual Meditation Tour
Turn your focus inwards during this Spiritual Meditation experience. A two-hour session carries you to a powerful vortex in the Seven Sisters area of West Sedona to enjoy the peace and tranquility of the surroundings and gives you the time to explore your deeper self. Guided meditation will show you how to clear negative energies and raise your spiritual vibrations, allowing you insight and a sense of balanced peace. You will also receive a personalized chakra reading to identify the strengths of your energy centers and point out areas where you may be blocked. Also included in your tour are meditation mats or blankets and bottled water. If you've ever wanted to give meditation a try, there's no better place to start!
Physic Vortex Tour
Visit some of Sedona's most powerful vortexes in this 2.5 hour tour, capped off with a visit to a Native American-inspired medicine wheel. Tour leaders will teach you about vortexes, the differences between masculine and feminine vortexes, and how they connect to your internal vortexes — your chakras, or energy centers — and give you a personalized chakra reading. You'll also be led in a guided meditation focused on opening your Third Eye, allowing you greater insight and perspective, and maybe even meet your own spirit guide. At the end of the tour, you'll be given a small crystal to commemorate your physic experience.
Sedona Ufo Tours: Keep In Mind
Some tours do not include transportation. For the UFO/Stargazer Tour and the meditation tour, you'll meet a guide in West Sedona and drive separately to the tour sites.
The UFO & Stargazer tour is dependent on having clear skies. Tours are canceled in the event that cloud cover reaches 50% or more.
Night tours include access to night-vision goggles (you might have to share a pair with other people), blankets, and they usually have a small supply of hats and gloves.
The desert cools off quickly at night, so unless it's the middle of summer, consider bringing a jacket or layers to help with the chill.
While most tours don't involve much walking, make sure to wear close-toed shoes on outings. Long pants are a good idea for all tours.
Most tours take you to restroom-free areas, so be sure to 'go' before you go.
Are These Sedona Ufo Tours For Me?
If you're traveling with kids or older family members, it may be better to stick to more traditional sightseeing activities. But if you're at all curious about Sedona's mystical side, the paranormal, or just want to try guided meditation and chakra cleansing, these can be really enjoyable and enlightening outings. Just bring along an open mind and a spirit of (internal) adventure!