The North Rim of the Grand Canyon is less visited by tourists, primarily because it is more difficult to access from major transit centers. It's over 200 miles away from the South Rim (about a five hour drive) and is much higher in elevation. The North Rim is typically closed during the fall and winter months for accessibility reasons, usually because of heavy snows that obstruct travel. However, visitors will find that a trip here is worth the extra effort – gorgeous vistas and substantially thinner crowds make for a truly unique experience.
Grand Canyon North Rim History and Background
The North Rim is part of the Grand Canyon National Park, operated and managed by the National Park Service. The Grand Canyon first became a National Park in 1919, and today attracts millions of visitors each year, few of whom actually visit the North Rim due to challenges in accessibility. For these reasons, it is less developed than the South Rim, although no less rewarding in terms of beautiful Canyon views, places to hike and camp, and photo opportunities.
What's at the Grand Canyon North Rim
The North Rim has a well-developed historic district that grew up around the late 1920s. The North Rim Headquarters District is itself on the National Register of Historic Places, and visitors can enjoy snapping photographs of traditional buildings from the early twentieth century, like a machine shop, a gas station, and a number of homes. The facilities here are underdeveloped in comparison to the bustling South Rim, but there is a little bit of everything to cater to tourists. You'll find a small visitor's center, several shops, a café, and a large camping site.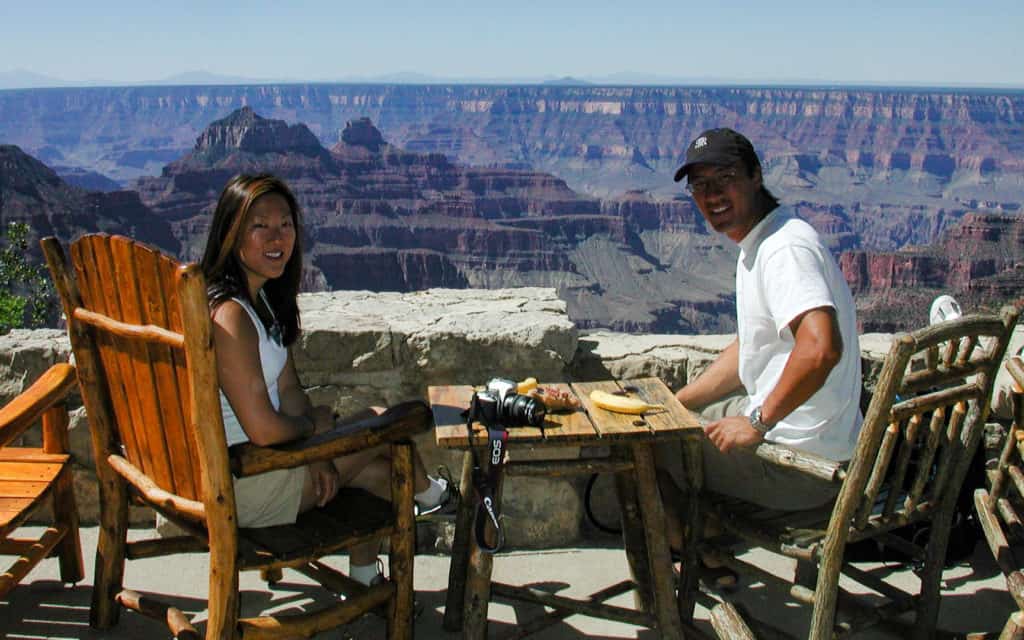 As far as different natural vistas go, the North Rim is also home to De Motte Park, a lovely ten-mile long meadow that stretches along the side of the highway. It's a good location to look for wildlife, especially deer and birds.
Travelers will also see Walhalla Plateau, which leads to several viewpoints. As with the South Rim, there are a multitude of named points, but here visitors will find that comparably few are reachable without strenuous, extended hiking. There are ten primary points that are right near the road, or accessible via hikes of varying difficulty. These points are (listed from west to east):
Widforss Point
Bright Angel Point
Uncle Jim Point
Honan Point
Cape Royal
Cape Final
Naji Point
Atoko Point
Roosevelt Point
Point Imperial
The most popular viewpoint on the North Rim is Bright Angel Point, which looks down onto Roaring Springs Canyon and the eponymous Bright Angel Canyon (which is not the main gorge of the Grand Canyon). Other prominent viewing points include Point Imperial and Cape Royal, the latter of which probably has the best view of the North Rim. Along with these three, Roosevelt Point is also close to the road.
Finally, fewer crowds during the spring and summer months mean that breathtaking Grand Canyon views are more readily available without all the obstruction of other vehicles and people, so its worth the extra effort for visitors looking for a more authentic and natural Grand Canyon experience.
Tips for Visiting the Grand Canyon North Rim
The North Rim is only open to visitors from May 15 to October 15 each year.
The North Rim is out of the way and private vehicle is the only way to get there. Many people come here after visiting Zion National Park or via Page.
Airplane sightseeing flights and helicopter tours that depart from Grand Canyon Airport in Tusayan will give you spectacular views of the North Rim but none will land there.
Several Hiking Tours depart from the North Rim, usually on route to the South Rim. These are called Rim to Rim Hikes.
There are no bus tours to the North Rim.
Cape Final and Uncle Jim Point are not on the main road, but are accessible via an easy trail.
Of the viewpoints that require more exertion, Honan Point provides the best views and is probably your best return on the effort.
Overnight lodging on the North Rim is exclusively available through the Grand Canyon Lodge.
Looking for a nice cold brew? Head to the Roughrider Saloon in the Grand Canyon Lodge Complex, which also offers a number of dining options.